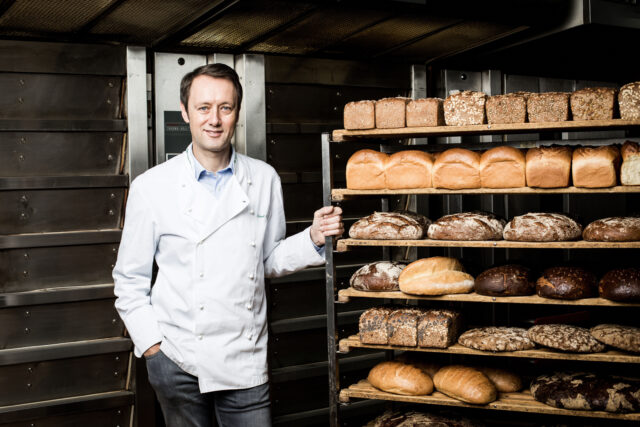 Solar Energy as an Engine of Growth
How a baker became an energy pioneer
Solar Energy as an Engine of Growth
How a baker became an energy pioneer
"Ihr Bäcker Schüren" is not your usual bakery. As well as bread rolls, pretzels and freshly brewed coffee, the family-owned company from Hilden, near Düsseldorf, also offers its customers charging points for their electric cars. This came about as a result not only of an innovative business idea but also of a decision rooted in real life: to become more sustainable. SONNENALLEE reveals how the bakery became an energy pioneer in its field, doing business with almost no net impact on the climate and even cooperating with Tesla on a new project.
VISIONARY, WITH A SENSE OF HISTORY
When Robert Schüren established his bakery in 1905, cars were still something of a rarity on the roads. Instead, it was more usual for ordinary people in particular to use a horse and cart to travel and to transport goods. Robert Schüren might have had little idea that 115 years later, his company would become a role model for sustainable energy and e-mobility, but several generations of children and employees, especially Roland Schüren, who has been general manager since 1998, have succeeded in taking a company steeped in history and shaping it into an advanced business that has long since had plenty of big ideas in the oven.
Our energy concept combines sustainability and economic efficiency."
A keen sense of the best way to respond to current developments has served the bakery well on numerous occasions in its time. In the post-war years, the business was expanded to sell groceries and imported goods. However, with the rise of supermarkets and retail chains in the 1970s, the company felt that it was exposed to ever greater competition. What was the crucial step forward? Returning to the past, with traditional craftsmanship and the very best natural ingredients.
Today, Ihr Bäcker Schüren offers a wide range of products that leaves nothing to be desired. From high-quality baked goods to lactose-free, gluten-free and vegan delicacies, health and sustainability are very much at the top of the agenda in North Rhine-Westphalia.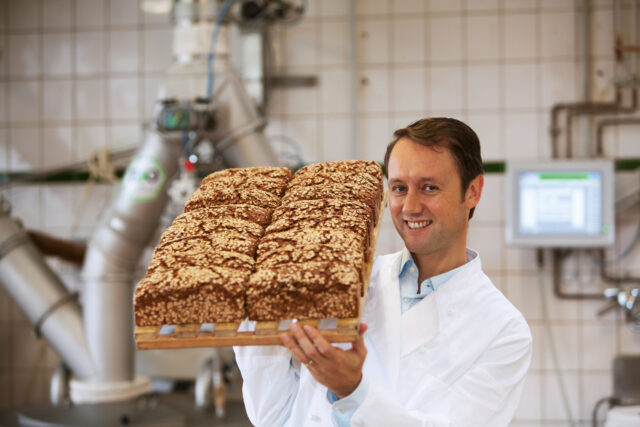 ENERGY EFFICIENCY DRIVING GROWT
Yet for the Schüren bakery, sustainability is a topic of enormous relevance from another standpoint as well, which is that of energy consumption. From production and delivery of the baked goods via its network of shops to administrative affairs, vast amounts of energy resources are needed. These not only have an impact on the environment but are also extremely costly. In light of this, the family-owned business, now in its fourth generation and led by Roland Schüren, began a rethink. How could it go about reconciling sustainability and efficiency? The solution was an energy strategy that encompasses the bakery's entire business model.
ON THE MOVE WITH SOLAR POWER
The company's sustained financial success made further expansion inevitable. This covered almost all aspects, from the bakery ovens to supply logistics, which led the business to take the next logical step toward sustainability by switching to renewable solar energy.
In addition to the production process, which had already been optimized in terms of energy, another area took center stage: supply logistics. The company had previously made a conscious decision not to use gasoline or diesel vehicles. Instead, its entire fleet ran on natural gas. Yet in this respect, too, it wanted to become more independent and sustainable. The solution? Its own PV systems.
The three key elements of energy
The Schüren bakery's energy strategy is based on three key elements that complement each other perfectly and incorporate all working processes.
Hot: the biomass oven
The "hot element" is based on the oven, traditionally the beating heart of any bakery. In 2009, to avoid having to rely on gas, a fossil fuel, Ihr Bäcker Schüren teamed up with its oven manufacturer to launch a joint pilot project involving developing an oven fueled by biomass. A hazy idea became everyday reality. Today, all the oven systems run entirely on wood pellets.
Cold: the cooling system running on geothermal heat
The "cold element" relates to an oft-underestimated area of a bakery: the cold storage room. To operate its cooling system in an energy-efficient way, the Schüren bakery uses compressors that are cooled with water instead of air. The water required is recirculated and cooled again in an economical way using a geothermal heat exchanger. This has cut the cooling system's energy consumption by around 80 percent relative to conventional systems.
Hot + cold: integrated heat recovery
The third element is heat recovery that uses the structures of the hot and cold elements. It replaces electric heating for the dishwasher, defrost heater and hot water heater. This makes optimized use of potential synergies and adds the finishing touch to the entire energy strategy.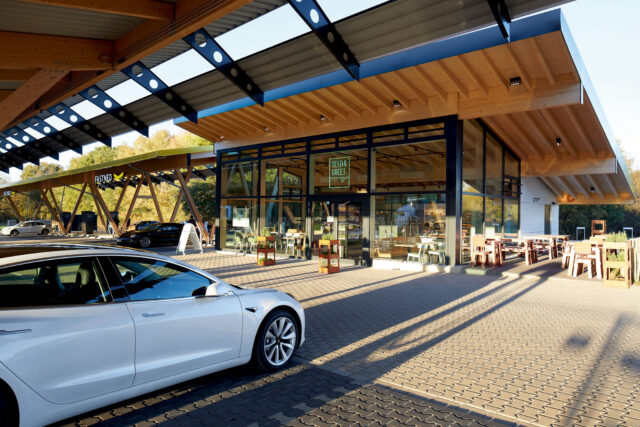 CHARGING POINTS FOT CUSTOMERS
Now that the entire delivery logistics organization has been incorporated into its energy strategy, Ihr Bäcker Schüren can largely rely on sustainable solar energy that it has generated itself. One pivotal factor in this is smart energy management, which perfectly matches all the energy processes involved. However, with this successful outcome secured for itself, the Schüren bakery is already asking itself the next question: How could it pass this sustainability on to customers and improve their shopping experience in the process? Because the company is now producing more electricity than it needs for its own purposes, it has set up additional charging points for other people to use.
The clever business idea is to allow customers to charge their vehicles for a nominal fee and enjoy a refreshing bite to eat in the bakery café while they wait. For Roland Schüren, this represents a crucial factor in future acceptance of e-mobility, which is that there needs to be an elegant way of passing the time spent charging vehicles. Food and drink, he believes, are essential in this respect, as are high-quality bathroom facilities, which the Schüren bakery provides free of charge.
FORM AN EXTRA EARNER TO A PROJECT FOR THE FUTURE
In 2020, Ihr Bäcker Schüren took a step that finally made the business something more than a baker that also happens to be committed to sustainability. With a fast-charging station for electric cars, the company opened the first part of a project that it has been planning with investors, known as the Seed & Greet charging station. The strategy for the new company is to combine a fast-charging station offering food and drink with a multi-story office complex featuring vertical farming. In the long term, the business could thereby meet its own needs for fruit and vegetables.
The site at the Hilden freeway intersection, initially equipped with 20 Tesla Superchargers for various models and a further eight Fastned charging points, entered service in October 2020. SMA supported the project with 28 Sunny Tripower Storage battery inverters. You can read more about these in the information box at the end of the page. In the long term, the charging station is expected to become one of Germany's largest, due in part to its proximity to the Benelux countries, for which Hilden could be an electric hub on the A 3 and A 46 freeways. Several large solar roofs span the entire complex, which is due to offer another 50 percent more charging capacity for electric vehicles at its final stage of expansion than it does at present. What would the company's founder, with his horse and cart, have thought about that back in 1905? •

Information box

Top hardware, comprehensive system expertise
The sun doesn't shine all the time, but a charging station needs to provide enough power for electric cars at all times. So how can it be run on sustainable solar energy without the need for compromises on functionality? Smart energy management is the answer. To this end, SMA lent its comprehensive system expertise to support the charging station.
The facility is based on 28 SMA Sunny Tripower Storage inverters, which make it possible to feed the required amount of electric current stored in the batteries rapidly to the electric cars via the charging points. From a user's perspective, this is the key service provided by the charging station – and SMA has a role in making it possible.
Both the number of inverters and the systematic way in which they are interconnected are both special features of this site. A cluster of 14 components, each producing 60 kW of power, is managed centrally by just one SMA Inverter Manager, which further optimizes the efficient use of the electricity across the entire system and was unique in terms of scale at the time of the project.
SMA is already one of the leading providers in energy management, but we are working on offering our customers not only the right hardware, but also customized systems and advice covering all components and thereby guaranteeing absolute reliability and maximum sustainability.