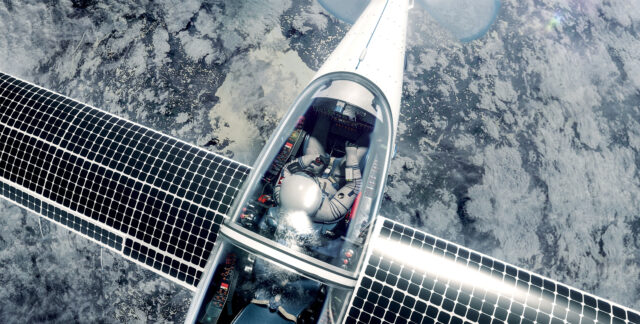 MISSION POSSIBLE
The adventures of the Swiss solar pioneer Raphaël Domjan
MISSION POSSIBLE
The adventures of the Swiss solar pioneer Raphaël Domjan
Anti-Icarus, adventurer, eco-pioneer, inventor, dreamer, trailblazer, solar entrepreneur, explorer, space pilot – there are many labels that apply to Raphaël Domjan. But it's probably a mix of them all that best describes this go- getting Swiss native. His life's mission: To prove that renewable energy can make a significant contribution to protecting the world's climate. His goal: To harness the sun's energy in a sustainable manner. His projects: exciting, daring, visionary.
If all goes according to plan, Raphaël Domjan, born in 1972, will be the first person to reach the stratosphere in a purely solar-powered aircraft in 2023. "SolarStratos" is not only the name he has given to the project, but also to his company, which set out in 2014 from Payerne in the Swiss canton of Vaud to conquer the stratosphere using the power of the sun. Behind this mission is a clear purpose, which can be read on the company's website:
"No type of energy is more easily available and less expensive than solar energy."
"Beyond technical innovation SolarStratos aims to promote renewable energy to protect our planet's climate." Or, as Domjan puts it in an interview with SONNENALLEE, "My goal as a researcher is to demonstrate the potential of solar energy in combating greenhouse gases and climate change. After all, no type of energy on Earth is more easily available or less expensive."
IINTO THE STRATOSPHERE WITH SOLAR POWER


At a flying field not far from Lake Neuchâtel, about halfway between Lausanne and Geneva, a team of around 20 people is working on realizing the dream of reaching the stratosphere using solar power. The team includes aviation engineers, pilots, design engineers, designers and electrical and electronics specialists. They are all pouring their brainpower, heart and soul, and craftsmanship into the construction of the two-seater solar aircraft that will complete Domjan's mission.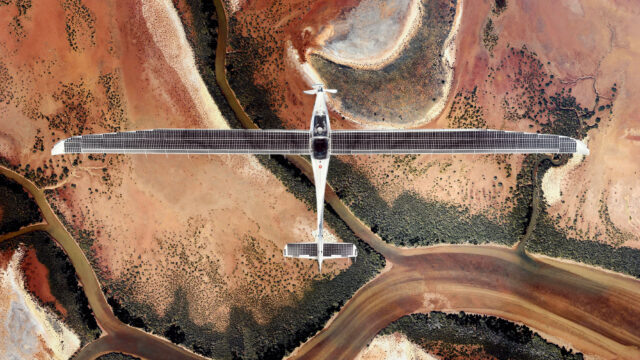 Whereas in Greek mythology Icarus was doomed by the energy of the sun during his exuberant flight, for Domjan's reach for the stars it is a promise. Equipped with 22 sqm of solar panels, with a length of 8.5 meters and a wingspan of just under 25 meters, the aircraft – SolarStratos is certain – is ideally equipped for the approximately 6-hour flight into space. The flight will take about 3-hours each way, culminating in a 15-minute stay in the stratosphere. Propulsion is provided by a propeller on the nose of the aircraft, which is driven by an electric motor with 22 kW of power and 2,200 revolutions per minute.
"It is precisely the difficulties that make our adventure so exciting."

When asked about the hurdles in realizing the project, the solar entrepreneur is both realistic and euphoric. "Of course, SolarStratos holds numerous challenges. The biggest was probably putting together a team with all the skills that such an adventure requires. Then it was a matter of getting solid financing set up. And last but not least, the technical challenges in terms of energy, temperature and extreme pressure were colossal. But it is precisely these difficulties that make our adventure so exciting
and interesting."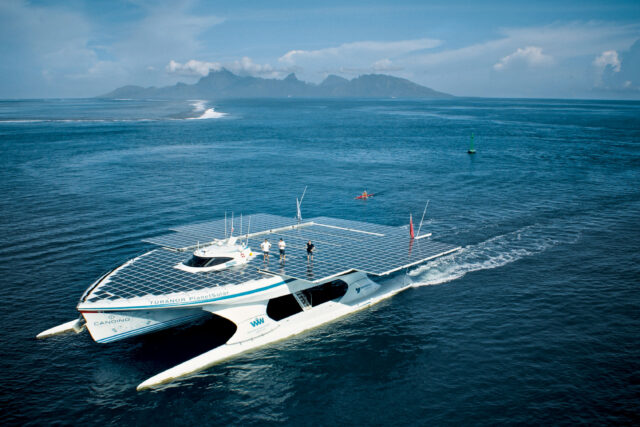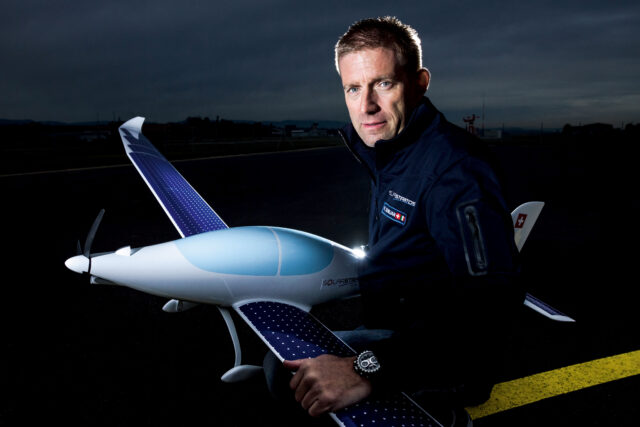 TEST FLIGHT AND TAKE-OFF SUCCESSFUL


In August 2020, the time had finally come: Together with his pilot Miguel Iturmendi, Domjan took off for a 50-minute test flight over Lake Neuchâtel. And a few days later, he was celebrated by the Swiss press for the "world's first parachute jump from his solar-powered electric aircraft."

Raphaël Domjan has dreamed of flying since he was a teenager, when he came up with the idea of flying around the world in an ultra-light amphibian aircraft. At the time, it was still too early to make it happen, but the fuse had been lit.
Inspired by a trip on a solar-powered catamaran at Expo 2002, Raphaël Domjan launched the PlanetSolar project. His goal was to circumnavigate the globe in a solar-powered ship. Largely unknown at the time, it took him some time to find sponsors and assemble a team. But in 2010, a trimaran with 537 m2 of solar panels was launched. With the "Turanor PlanetSolar" and a crew of three, Domjan circumnavigated the world using solar energy from September 2010 to May 2012.

THROUGH THE NORTHWEST PASSAGE BY KAYAK


As part of the SolarArcticPassage project, Domjan and Breton sailor Anne Quemere experimented with two kayaks in the Northwest Passage in the summer of 2015. The mission yielded important scientific insights into the performance of solar energy in the polar region and at extreme temperatures.

How does someone who has dedicated his life and work to the fight against climate change currently assess the chances for the rapid implementation of solar energy? "Today, solar technology is technically and economically mature. The companies must understand that it is in their interest to generate their own renewable energy. In addition, the general public needs to commit to climate-friendly consumption and support progressive politicians who push such issues."
Raphaël Domjan – a motivated man when it comes to sustainable energy. We can look forward to further projects from the visionary Swiss. He already revealed a little at the end of the interview: "With my PlanetSolar Foundation, we have other projects underway that aim to promote the use of solar energy in developing countries."•