Stromanschluss im Abseits
Stromanschluss im Abseits
Electricity for the remotest regions
Not everyone in the world is connected to a utility grid, which is why people living in remote or hard-to-access areas usually rely on diesel generators. Off-grid systems could represent a clean, reliable and sustainable alternative.
Gutu is a tiny village in the west of Nepal. Surrounded by forests and mountains, it is around 800 kilometers from the capital Kathmandu and so lies well off the beaten track. It's a beautiful, idyllic place. However, there is also another, not so peaceful Gutu, for it is also home to noisy, filthy diesel generators. A necessary evil for supplying what little infrastructure there is with electricity. There are no washing machines here. Nor does anyone possess a stove or even an electric light. The small amount of electricity that the villagers can scrape together with the tiny PV system is only just enough to charge a cellphone for an emergency call. As darkness descends, life comes to a halt here in Gutu, because the village is not connected to the utility grid. And without electricity, there is not even the slightest chance of life improving in the village. Here, being remote also means being completely isolated. Not a pleasant thought.
As darkness descends, life comes to a halt here in Gutu.
But fortunately, something has changed in Gutu. In March 2019, a solar-powered microgrid was installed in this remote settlement. A 100 KW PV power plant now reliably supplies 275 homes, a post office, shops, schools, the hospital and administrative offices with clean electricity. The plant is run on a cooperative basis. Every building is connected to smart meters, which means that self-consumption is totally transparent for everyone. The electricity supply after sunset is ensured by means of a battery-storage system so that the villagers can benefit from light and heat around the clock.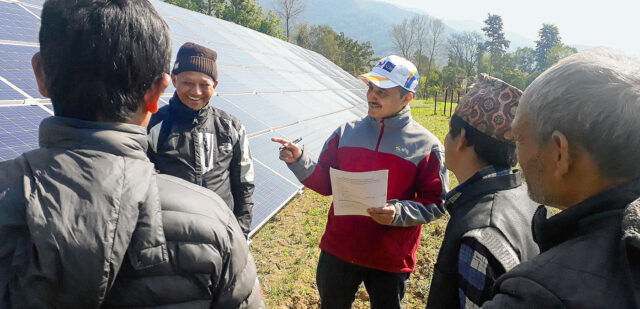 A reliable electricity supply opens up potential for economic development and improved education opportunities. The electrical equipment, IT and communication systems in the hospital, government building and bank finally work properly. The computer room in the school can now also be opened. Thanks to electrical machinery, the farmers in the village can process their harvest more quickly and effectively. Tourists can look forward to hotels with reliable lighting, hot water and cable TV. New jobs have also been created because the power plant has to be maintained and the billing system managed. Thanks to AC solar power, no one has to cook over an open fire any more and the diesel generators have at last fallen silent. Finally, some peace and fresh air.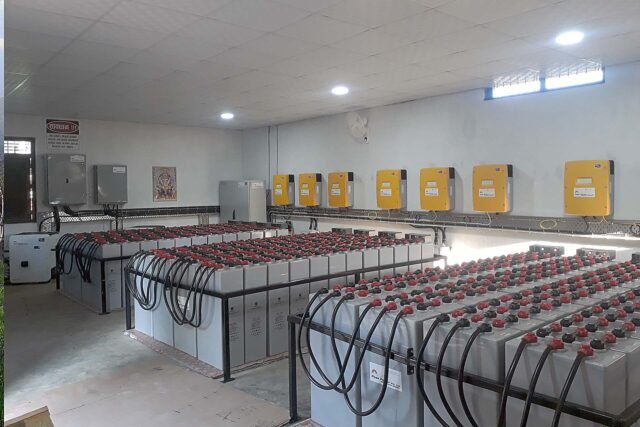 Gutu plant profile:

Location: Gutu, Chaukune municipality, Surkhet district
308 Trina Solar tsm-325w pc14 PV modules, ground-mounted, south-facing
12 SMA Sunny Island 8.0H-12 battery inverters
SMA Multicluster Box 12.2 for the AC connection
SMA Data Manager M for remote monitoring
2 SMA Sunny Tripower CORE1 PV inverters
192 Sacred Sun VRLA 2000AH gel 2v batteries
280 single-phase energy meters
3 three-phase energy meters
7.8 kilometer, three-phase, four-pin transmission line
119 utility poles
Commissioning date: March 2019
Construction and commissioning:

Peak Power planned and constructed the 100-kW microgrid in collaboration with ADB, AEPC and the local partner Motherland Energy Group Pvt. Ltd.
Electricity plays a key role in almost every aspect of our lives. It makes life not only easier but also safer and more secure, for example by allowing us to prepare food using healthier methods and benefit from safer production and working conditions as well as fully functional hospitals and schools. It enhances our quality of life and opens up potential for development. In Germany, electricity is integral to our lives. So integral, in fact, that the consequences of a power outage lasting just one week would be nothing short of catastrophic. But people living in more remote regions of the world often have no or only very limited access to electricity. According to the Tracking SDG: Energy Progress Report 2020, which was published by the International Energy Agency (IEA), International Renewable Energy Agency (IRENA), United Nations Statistics Division (UNSD), World Bank and World Health Organization (WHO), 800 million people worldwide had no access to electricity in 2018.
In 2030, 620 million people worldwide are expected to be still without electricity.
Although much has been done to reduce this figure, which, according to the SDG7 report, was as high as 1.2 billion in 2001, electrification is progressing only very slowly (2010: 1.2 billion people; 2015: 1 billion). This is because the affected regions are extremely remote. For Sub-Saharan Africa, the statistics contained in the SDG7 report are especially striking, with just 47 percent of the entire population of this region having access to electricity. In Chad, for example, the figure is just 12 percent; in Burkina Faso, 14 percent; in Niger, 18 percent.
Sustainable off-grid systems such as the PV power plant in Gutu could be the solution to ensuring that those regions of Africa that are not connected to the main grid because they are too remote or hard to access can finally be supplied with electricity. In its latest Impact Report, the company 60 Decibels underlines the importance of off-grid solutions to the regions and communities where they have been installed. According to the latest customer survey, 88 percent of users stated that they had experienced an improved quality of life. Some respondents, however, complained about receiving defective components that were then not replaced or untrustworthy advisors making overblown claims about system performance. Around one fifth of respondents stated that they use the available energy to generate an income for, say, restaurants, shops and kiosks. The use of dirty, expensive and dangerous energy carriers is also decreasing. Customers are using electric lights instead of kerosene lamps, which not only reduces their exposure to particulates by 50 percent to 80 percent but also saves around half a ton of CO2 per household. Since electric light is better quality, children can spend around 20 minutes longer each day doing schoolwork. In addition, 86 percent of respondents stated that they felt safer in their own homes, and the number of fire-related household accidents has fallen significantly. The report sees room for improvement in the areas of customer service and financing. A total of 67 percent of customers reported that problems were not always fixed; more than 30 percent stated that they had experienced problems with the hire purchase agreements and sometimes had to go without food in order to service their loans. 60 Decibels is calling for action here because most customers are on a very low income and so at risk of exacerbating their already precarious situation if they have to scrimp and save to pay excessively high installments for equipment that doesn't work.
For remote regions in developing and newly industrialized countries, off-grid systems are an effective and important solution – provided they come from professional and reputable providers. But there are also places in our part of the world where off-grid systems are the best solution – the Seethalerhütte, Austria, for example. This alpine refuge sits at an altitude of 2,740 meters in the Dachstein Mountains in Austria. A popular hiking destination since as far back as 1929, it has been renovated numerous times but never connected to the utility grid. The building has been at risk of slipping into a crevice due to the declining permafrost over the past few years, which is why the Austrian Alpine Association commissioned a new building, which was completed in 2018. For its energy supply, the old building consumed 1,200 liters of diesel per season. This was neither environmentally friendly, nor did it chime in with the nature-loving spirit of the hikers who visited the refuge.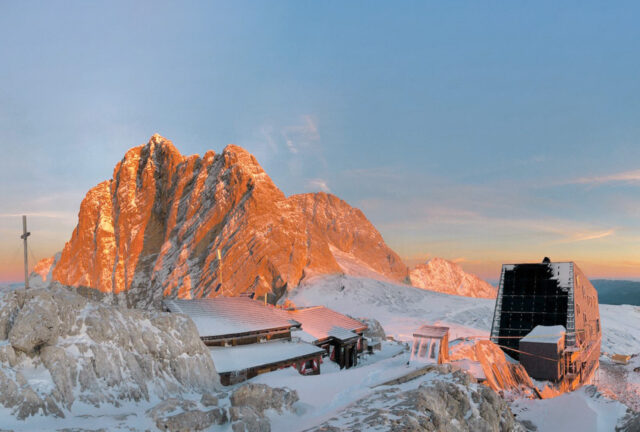 There are also places in our part of the world where off-grid systems are the best solution.
Those responsible for planning the new building therefore used the opportunity to strike the right balance between nature conservation, the environment, mountaineering, tourism and safety. Today, a PV system with a battery-storage system and rapeseed-oil-powered CHP plant ensure a reliable supply of renewable energy at an altitude of almost 3,000 meters. You can find an in-depth report on this extraordinary project here: https://sonnenallee.sma.de/dezentrale-energie/technisches-meisterwerk/.
Off-grid systems may not be an alternative to a large-scale energy supply, but in remote, hard-to-access regions all over the world, they make an important contribution to a greater quality of life, environmental protection and sustainability. They are thus vital for plugging the remaining supply gaps and giving those who live well off the beaten track access to the modern world. According to IRENA, around 53 million people in Africa and around 76 million in Asia receive their electricity from sustainable off-grid solutions – and this figure is rising all the time.