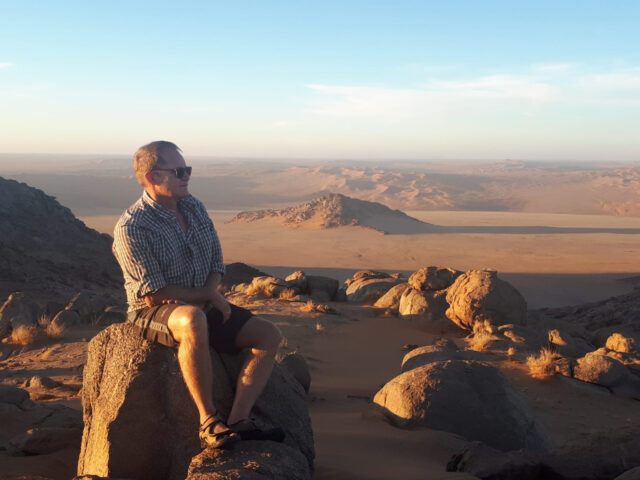 Ein Gespräch mit Matthias Horx über die "Zeiten mit Corona" und die Auswirkungen auf die Energiewende
"Africa still shapes me today"
A discussion with Jürgen Reinert on the challenges of being CEO of a global solar company – and his childhood in Namibia.
Most people know Jürgen Reinert as a technophile advocate of the energy transition and as CEO of SMA Solar Technology, global provider of photovoltaic system technology. Only a few people know is that he grew up in Namibia and spent a lot of time on the family farm without electricity or running water. He was a soccer player and swimmer at a professional level who didn't drink his first Coca Cola until the age of 15, and who managed to get Nelson Mandela to his university as a speaker. Jürgen Reinert explains here how his youth in Africa still shapes him today and why real sustainability is needed for a solar company to assert itself in the market.
He hadn't actually planned to stay in Germany for such a long time. Born in Namibia in 1968, Jürgen Reinert often spent months on his grandparents' farm in the northern part of the country near Grootfontein. "At age 14, I sometimes ran the farm all by myself. I repaired bicycles, cars and all kinds of stationary motors, such as the wind drivetrain of our well," he recalled. "For purely practical reasons, interest in technology was widespread in Namibia at the time." Jürgen Reinert was also interested in environmental issues at an early age – not only because he loved the nature in his homeland but also because he learned as a child that resources are not unlimited.
"I didn't grow up with abundance," he stated frankly. Although his father ran the largest cement company in Namibia and his mother ran her own small stamp factory, conditions were rather spartan for the Reinerts. "When we were kids, we collected plastic bags, gave them back to the shops and got chocolate in return," Jürgen Reinert recalled. He drank his first Coca Cola when he was 15, and it wasn't until 1984, when he was 16 years old, that the family bought their first television set. A childhood and youth that would probably have been different in many respects if the family had lived in Germany.
"Meeting Nelson Mandela was an inspiration"
It was during his school years in Windhoek that Jürgen Reinert discovered his passion for sport. Swimming and soccer taught him endurance, he said, which is still benefiting him today as the head of around 3,000 employees in 18 countries. "Once, I even played on the national youth soccer team," he recalled. In swimming, he was sometimes faster than the world's best female swimmer. "But I would never have been able to keep up with Franzi van Almsick," he admitted. It was during apartheid that he began his electrical engineering studies in Pretoria, South Africa.
The fact that he vehemently advocated equal pay for black and white people at the conservative university almost cost him his university place. At the beginning of the 1990s, shortly after the political changeover in South Africa, he and his partner at the time managed to get Nelson Mandela invited to speak at the university. To this day, Mandela, "a man of the old school, who was incredibly tolerant and open," is one of Jürgen Reinert's most inspiring role models.
At the same time, Elon Musk, three years his junior, studied for a few months at the University of Pretoria. Although the two men never met, the Tesla boss became another role model for Jürgen Reinert. "Germany has missed crucial developments in e-mobility. Musk ignored all the naysayers and became extremely successful." Jürgen Reinert also was a fervent supporter of e-mobility right from the outset. E-mobility, renewable energies and drive technology are common themes throughout his studies and working life. After seven years at RWTH Aachen University, with three years as chief engineer in the field of electric vehicles, he worked for twelve years in Helsingborg for the Swedish drive technology manufacturer Emotron, ultimately as technical managing director.
"Striking a meaningful balance between technology, sustainability and comfort"
Jürgen Reinert believes that the energy transition is not only absolutely necessary but also feasible. "This is a colossal opportunity because photovoltaics are not only climate-friendly but also demonstrably cheaper than fossil fuels. And we have done everything possible to ensure that the transition can take place in a short time frame." As an example, he cites the Danish company Dong Energy (now: Ørsted), which switched from coal-based to renewable energies in just eight years. At his home, an east–west-aligned PV system supplemented by a battery storage system is just as much a part of the Reinert family's sustainable and comfortable lifestyle as their electric car. "My aim is to strike a meaningful balance between technology, sustainability and comfort," he said. "I don't have any shame about flying, but I also wouldn't just fly to Mallorca for the weekend either." However, it is important for him that he and his wife and four children (19, 18, 16 and 4) spend every other Christmas with his family in Namibia.
Life in Africa has had a lasting influence on Jürgen Reinert. "Even now, when I'm on holiday, I prefer to sleep under the open sky instead of in a four-star hotel." His wife, who was born in Switzerland and is a biologist, is similarly close to nature. Last year, he hiked in Namibia with his eldest son – without a tent, of course — and toured the Himalayas with his two adult daughters.
"Real sustainability is more than just lip service"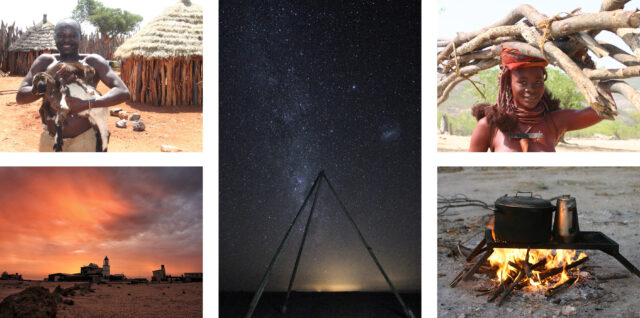 He is every bit as passionate about technology as he is about the great outdoors. During his time at RWTH Aachen University, he got to know many major international car brands in live operation by working on electric vehicles. "When I'm in Namibia, I stop at every PV system and look closely at the technology and converters there." But being a technical manager is not enough for him. "It's a huge advantage to be technologically savvy, but the commercial aspect is at least as important – for both SMA and our customers." SMA's product may not be the cheapest, but it is the most durable: "Our products may be more expensive to purchase than other products, but this pays off over the long term because their design reserve ensures that they enjoy a long service life." Long product service lives are part of SMA's long-term sustainability strategy. Not just lip service, as is the case with many other providers, but a conviction that is put into practice in all areas of business and throughout the entire value chain. Real sustainability, he continued, begins right at the point where we acquire the raw materials. "As a manufacturer of solutions for generating renewable energy, we cannot be indifferent to how we actually make our products. We have to set a good example."
"Our industry has learned to economize"
Jürgen Reinert is passionate about the photovoltaics industry: "We are no longer an industry that is coddled by the government." There is no longer any preferential treatment, the hurdles are higher and great attention is paid to costs. "Our industry has learned to economize." The fact that SMA was the only major German solar company to survive in the market was associated with painful cutbacks. In 2015, the company had to reduce its workforce by 35%. Clear, open communication helped with that. "We spoke honestly about how badly the company was doing," said Reinert. Thanks to a lean fixed cost structure and better capacity utilization, SMA was able to increase its output – or to put it in photovoltaics terms, its efficiency – fivefold. "Our company became resilient," he said.
Unlike the German automotive groups, SMA decided against short-time work during the coronavirus crisis. "We continue producing, which is the best strategy to avoid losing market shares to Chinese companies. We can successfully manage the supply chain," said Jürgen Reinert. He is confident that SMA will achieve this year's sales targets despite the pandemic. The European Green Deal is a ray of hope for the energy transition, and solar expansion in the EU will probably be increasing significantly. Nevertheless, the situation is likely to remain challenging for some time after the crisis, so the company will also need to keep a close eye on its figures.
And what about personal resilience? It is of course a challenging task to manage a large solar company and help shape the energy transition, he explained, but that is precisely what motivates him. "Africa was a good teacher in that respect. Staying true to my values and principles gives me energy – and working for SMA helps me achieve this." His hobbies, which include sport and singing in a band, have to be put on the back burner due to the abundance of meetings, but Jürgen Reinert still takes time for his family. At some point – and he is quite sure of this – he wants to move back to Namibia together with his wife. But even then, sitting still won't be an option for him.
"Staying true to my values and principles gives me energy"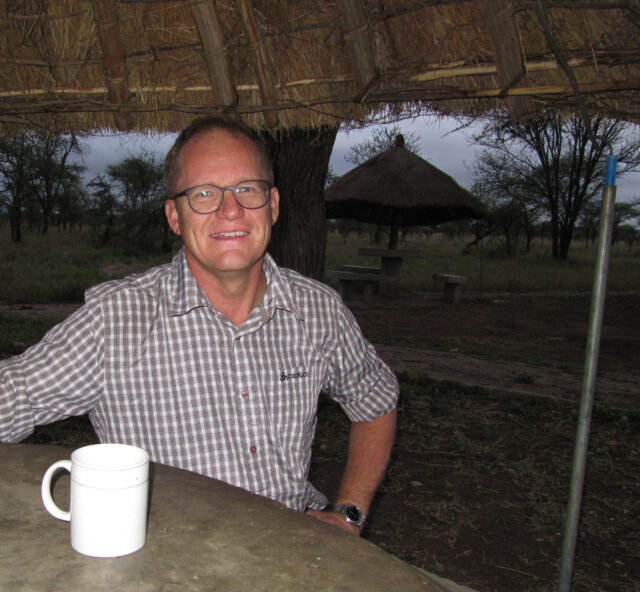 Jürgen Reinert
has been focusing on sustainable technologies since he studied electrical engineering in South Africa. He received his PhD from the Institute for Power Electronics and Electrical Drives at RWTH Aachen University, and from 1999 to 2011 he worked as Managing Director at Emotron AB in Sweden, developing electrical drives. After more than ten years, he moved the center of his life from Sweden to Germany, and since 2011 has had a variety of roles at SMA. Jürgen Reinert has been a member of the Managing Board of SMA since 2014 and was appointed Chief Executive Officer in October 2018. SMA stands for a decentralized and renewable energy supply. Its portfolio contains a wide range of efficient PV inverters and system solutions for PV systems of all power classes.